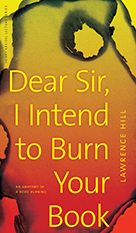 Lawrence Hill's April 2012 lecture is now available, with Introduction by Ted Bishop.
Publishers: co-published by the University of Alberta Press and the Canadian Literature Centre
Price: $10.95
ISBN: 978-0-88864-679-8
Format: Trade paperback
Genre: Canadian Literature/Essay
About the book: In 2011, Canadian writer Lawrence Hill received an email from a man in the Netherlands stating that he intended to burn The Book of Negroes, Hill's internationally acclaimed novel. Soon, the threat was international news, affecting Hill's publishers and readers. In this provocative essay, Hill shares his private response to that moment and the controversy that followed, examining his reaction to the threat, while attempting to come to terms with the book burner's motives and complaints. Drawing on other instances of book banning and burning, Hill maintains that censorship is still alive and well, even in this age of access to information. All who are interested in literature, freedom of expression and human rights will appreciate this passionate defence of the freedom to read and write.