Esi Edugyan's new book Dreaming of Elsewhere: Observations on Home, from her 2013 CLC Kreisel Lecture is now available from the University of Alberta Press.
Dreaming of Elsewhere: Observations on Home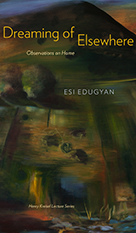 Esi Edugyans 2013 Kreisel lecture is now available, with Introduction by Marina Endicott.
Author: Esi Edugyan
Publishers: co-published by the University of Alberta Press and the Canadian Literature Centre
Price: $10.95
ISBN: 978-0-88864-821-178-0-88864-821-1
Format: Trade paperback
Genre: Literature/Essay
About the book: Home, for me, was not a birthright, but an invention.… It seems to me when we speak of home we are speaking of several things, often at once, muddled together into an uneasy stew. We say home and mean origins, we say home and mean belonging. These are two different things: where we come from, and where we are. Writing about belonging is not a simple task. Esi Edugyan chooses to intertwine fact and fiction, objective and subjective in an effort to find out if one can belong to more than one place, if home is just a place or if it can be an idea, a person, a memory, or a dream. How "home" changes, how it changes us, and how every farewell carries the promise of a return. Readers of Canadian literature, armchair travellers, and all citizens of the global village will enjoy her explorations and reflections, as we follow her from Ghana to Germany, from Toronto to Budapest, from Paris to New York.
About the author: Esi Edugyan's most recent novel, Half Blood Blues won the 2011 Scotiabank Giller Prize and the 2012 Ethel Wilson Fiction Prize. It also won the 2012 Anisfield-Wolf Book Award, which recognizes books that have made important contributions to our understanding of racism and our appreciation of the rich diversity of human cultures. The novel was a finalist for the 2011 Man Booker Prize, the 2012 Orange Prize, the 2011 Governor General's Literary Award for Fiction, and the 2011 Rogers Writers' Trust Fiction Prize. Her debut novel, The Second Life of Samuel Tyne, was published internationally to critical acclaim. Her work has appeared in several anthologies, including Best New American Voices 2003. Edugyan has held fellowships in the U.S., Scotland, Iceland, Germany, Hungary, Finland, Spain and Belgium. She lives in Victoria, British Columbia, with her husband and daughter.
Reviews: Find a new review of Dreaming of Elsewhere in Foreword Magazine at ca.zinio.com