Winter 2015 Issue of Eighteen Bridges available.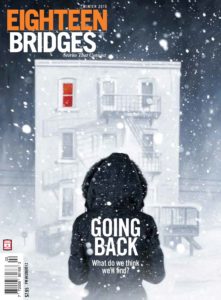 We had a spectacular night for Eighteen Bridges at the National Magazine Awards on June 10, 2016.
Eighteen Bridges won three Gold medals, in Essays (Lisa Gregoire for "Breathing Holes"), Investigative Reporting (Virgil Grandfield for "The Cage") and Society (Carissa Halton for "A Different Kind of Simakanis"),  and Silver in Best Short Feature (Alissa York for "Soft Core").
New Eighteen Bridges podcast: Beyond the Story can be found HERE.