Série CLC
Ten Canadian Writers in Context
A special anniversary volume to mark the CLC's ten years of literary activity.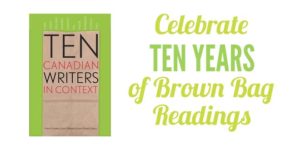 Marie Carrière, Curtis Gillespie, Jason Purcell, Lynn Coady, Ying Chen, Michael Crummey, Jennifer Delisle, Kit Dobson, Caterina Edwards, Marina Endicott, Lawrence Hill, Daniel Laforest, Alice Major, Don Perkins, Julie Rodgers, Joseph Pivato, Eden Robinson,Gregory Scofield, Winfried Siemerling, Pamela Sing, Maïté Snauwaert, Kim Thúy and Angela Van Essen.
Ten years, ten authors, ten critics.
The Canadian Literature Centre/Centre de littérature canadienne reaches into its ten-year archive of Brown Bag Lunch readings to sample some of the most diverse and powerful voices in contemporary Canadian literature.
This anthology offers readers samples from some of Canada's most exciting writers of fiction, nonfiction, and poetry. Each selection is introduced by a brief essay, serving as a point of entry into the writer's work. From the east coast of Newfoundland to Kitamaat territory on British Columbia's central coast, there is a story for everyone, from everywhere. True to Canada's multilingual and multicultural heritage, these ten writers come from diverse ethnicities and backgrounds, and work in multiple languages, including English, French, and Cree.
Ying Chen | essay by Julie Rodgers
Lynn Coady | essay by Maïté Snauwaert
Michael Crummey | essay by Jennifer Bowering Delisle
Caterina Edwards | essay by Joseph Pivato
Marina Endicott | essay by Daniel Laforest
Lawrence Hill | essay by Winfried Siemerling
Alice Major | essay by Don Perkins
Eden Robinson | essay by Kit Dobson
Gregory Scofield | essay by Angela Van Essen
Kim Thúy | essay by Pamela V. Sing
Volume 3:
Habiter la mémoire dans la littérature canadienne / Inhabiting Memory in Canadian Literature
Dirigé par Benjamin Authers, Maïté Snauwaert, et Daniel Laforest
Ce livre examine l'importance culturelle de l'espace et de la mémoire en contexte canadien et plus spécifiquement dans les littératures du pays, afin d'inviter des lectures neuves des questions régionales, nationales et globales. Il rassemble sept chapitres en anglais et cinq en français, en plus d'une introduction bilingue. Les contributions, favorisant des approches thématiques et théoriques variées, sont réunies par leur désir de mettre en lumière des croisements inédits entre la mémoire et l'espace en tant qu'ils définissent certains des problèmes les plus brûlants de notre époque au Canada. S'y révèle l'équilibre fort instable entre récits unitaires et fractures communautaires, entre altérité et marginalité, ou entre dislocation et désappartenance.
Collaborateurs / Contributors: Albert Braz, Samantha Cook, Jennifer Delisle, Lise Gaboury-Diallo, Smaro Kamboureli, Janne Korkka, André Lamontagne, Margaret Mackey, Sherry Simon, Pamela Sing, Camille van der Marel, Erin Wunker
Pour vous procurer le livre ou en savoir plus, visiter University of Alberta Press ici.
Volume 2:
Regenerations / Régénérations
Canadian Women's Writing / Écriture des femmes au Canada
 
Buttressed by a wealth of new, collaborative research methods and technologies, the contributors of this collection examine women's writing in Canada, past and present, with 11 essays in English and 5 in French. Regenerations was born out of the inaugural conference of the Canadian Writing Research Collaboratory held at the Canadian Literature Centre, University of Alberta, and exemplifies the progress of radically interdisciplinary research, collaboration, and publishing efforts surrounding Canadian women's writing. Researchers and students interested in Canadian literature, Québec literature, women's writing, literary history, feminist theory, and digital humanities scholarship should definitely acquaint themselves with this work. Contributors: Nicole Brossard, Susan Brown, Marie Carrière, Patricia Demers, Louise Dennys, Cinda Gault, Lucie Hotte, Dean Irvine, Gary Kelly, Shauna Lancit, Mary McDonald-Rissanen, Lindsey McMaster, Mary-Jo Romaniuk, Julie Roy, Susan Rudy, Chantal Savoie, Maïté Snauwaert, Rosemary Sullivan, and Sheena Wilson.