The Old Lost Land of Newfoundland: Memory, Family, Fiction, and Myth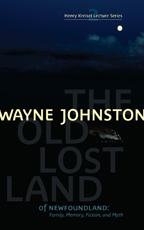 Author: Wayne Johnston
Publishers: co-published by NeWest Press and the Canadian Literature Centre | Centre de littérature canadienne
Price: $8.95
ISBN 13: 978-1-897126-35-6
Released: March 2009
Pages: 48 pages
Format: Trade paperback
Genre: Non-Fiction/Lecture
About the book: In 2008 Wayne Johnston became the second prominent Canadian writer to enlighten and entertain audiences as a speaker in the Canadian Literature Centre's Henry Kreisel Lecture Series. He spoke to an enthusiastic audience at the University of Alberta about the myths and realities surrounding his native Newfoundland. A master storyteller, Johnston peppered the lecture with impromptu asides, delighting his listeners with true tales and well-spun yarns.
About the author: Wayne Johnston was born and raised in Goulds, Newfoundland. He obtained a BA in English from Memorial University and worked as a reporter for the St. John's Daily News before deciding to devote himself full-time to creative writing. Since then Johnston has written seven books and has been a contributing editor for The Walrus. His first book, The Story of Bobby O'Malley, won the WH Smith/Books in Canada First Novel Award. Baltimore's Mansion, a memoir dealing with his grandfather, his father, and himself, was tremendously well-received and won the prestigious Charles Taylor Prize for Literary Non-Fiction. His novels The colony of Unrequited Dreams and The Navigator of New York spent extended periods of time on bestseller lists in Canada and have been published in the US, Britain, Germany, Holland, China and Spain. Colony was also identified by The Globe and Mail as one of the 100 most important Canadian books ever produced. Johnston divides his time between Toronto and Roanoke, Virginia, where he has held the Distinguished Chair in Creative Writing at Hollins University since 2004.