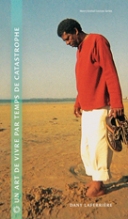 Dany Laferrière's March 2009 lecture, I Write as I Live. Introduction and Foreword are in both French and English.
"L'interrogation n'a pas changé à 56 ans: pourquoi ne profite-t-on pas de tout ce qui nous arrive pour changer notre vie?" - Dany Laferrière
Author: Dany Laferrière
Publishers: co-published by the University of Alberta Press and the Canadian Literature Centre | Centre de littérature canadienne
Price: $10.95
ISBN: 978-0-88864-553-1
Pages: 52 pages
Format: Trade paperback
Genre: Canadian Literature/Essay
About the book: On March 5, 2009, The University of Alberta's Canadian Literature Centre hosted award-winning author Dany Laferrière for its annual flagship Henry Kreisel Memorial Lecture. The University of Alberta Press and The Canadian Literature Centre are proud to publish the French monograph that Laferrière's presentation was based on.
About the author: Unconventional, controversial, prolific and immensely talented, Dany Laferrière was born in Haïti and adopted Québec as his new home. He achieved critical fame with his first novel, How to Make Love to a Negro Without Getting Tired. With humour and clarity, his work examines Haitian, Quebec and North American society and inter-racial relationships.