CLC SERIES
Ten Canadian Writers in Context
Marie Carrière, Curtis Gillespie, Jason Purcell, Lynn Coady, Ying Chen, Michael Crummey, Jennifer Delisle, Kit Dobson, Caterina Edwards, Marina Endicott, Lawrence Hill, Daniel Laforest, Alice Major, Don Perkins, Julie Rodgers, Joseph Pivato, Eden Robinson,Gregory Scofield, Winfried Siemerling, Pamela Sing, Maïté Snauwaert, Kim Thúy and Angela Van Essen.
Ten years, ten authors, ten critics.
The Canadian Literature Centre/Centre de littérature canadienne reaches into its ten-year archive of Brown Bag Lunch readings to sample some of the most diverse and powerful voices in contemporary Canadian literature.
This anthology offers readers samples from some of Canada's most exciting writers of fiction, nonfiction, and poetry. Each selection is introduced by a brief essay, serving as a point of entry into the writer's work. From the east coast of Newfoundland to Kitamaat territory on British Columbia's central coast, there is a story for everyone, from everywhere. True to Canada's multilingual and multicultural heritage, these ten writers come from diverse ethnicities and backgrounds, and work in multiple languages, including English, French, and Cree.
Ying Chen | essay by Julie Rodgers
Lynn Coady | essay by Maïté Snauwaert
Michael Crummey | essay by Jennifer Bowering Delisle
Caterina Edwards | essay by Joseph Pivato
Marina Endicott | essay by Daniel Laforest
Lawrence Hill | essay by Winfried Siemerling
Alice Major | essay by Don Perkins
Eden Robinson | essay by Kit Dobson
Gregory Scofield | essay by Angela Van Essen
Kim Thúy | essay by Pamela V. Sing
Regenerations: Canadian Women's Writing
HENRY KREISEL LECTURE SERIES
Riveting lectures by talented Canadian writers…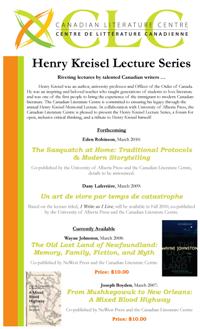 Henry Kreisel was an author, university professor and Officer of the Order of Canada. He was an inspiring and beloved teacher who taught generations of students to love literature and was one of the first people to bring the experience of the immigrant to modern Canadian literature. The Canadian Literature Centre is committed to ensuring his legacy through the annual Henry Kreisel Memorial Lecture. In collaboration with University of Alberta Press, the Canadian Literature Centre is pleased to present the Henry Kreisel Lecture Series, a forum for open, inclusive critical thinking, and a tribute to Henry Kreisel himself.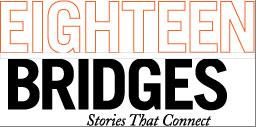 Follow the above link to subscribe online (accepts credit card payments).
Each issue sells for $7.95 plus GST and shipping, and annual subscriptions (4 issues) are available for $25.95 plus GST. Cheques should be made payable to "Eighteen Bridges, University of Alberta".
Please mail to: Eighteen Bridges magazine, c/o The Canadian Literature Centre, 3-5 Humanities Centre, University of Alberta, Edmonton, AB T6G 2E5.
Print copies can also be purchased at the following locations:
U of A Bookstore, 166 Students' Union Building, 8900 - 114 Street
Audreys Books, 10702 Jasper Avenue
The Untitled Bookshop, 10516 Whyte Avenue
Hub Cigar, 8118 Gateway Boulevard NW