From Mushkegowuk to New Orleans: A Mixed Blood Highway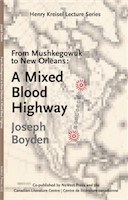 Author: Joseph Boyden
Publishers: co-published by NeWest Press and the Canadian Literature Centre | Centre de littérature canadienne
Price: 9.95 CDN/US
ISBN 13: 978-1-897126-29-5
Released: March 2008
Pages: 48 pages
Format: Trade paperback
Genre: Non-Fiction/Lecture
About the book: In 2007 Joseph Boyden, author of the bestselling novel Three Day Road, was invited by the Canadian Literature Centre | Centre de littérature canadienne to deliver the inaugural Henry Kreisel Lecture at the University of Alberta. Boyden spoke passionately, relating Aboriginal people in Canada to poor African Americans, Whites, and Hispanics in post-Katrina New Orleans. At the end of his lecture he presented a manifesto to the audience, demanding independence from the shackles of North American governments on behalf of these oppressed cultures. The lecture was received with much acclaim and enthusiasm.
About the author: Joseph Boyden is a member of the Ontario Woodland Métis. His first collection of stories, Born With A Tooth, was shortlisted for the Upper Canada Writers' Craft Award and has been published in Canada and France. His debut novel, Three Day Road, is an international bestseller and has been published in thirteen languages. The first novel to be translated into Cree, it has received numerous awards in Canada and abroad, including the Roger's Writers' Trust Prize. Joseph splits his time between Moosonee (or James Bay Lowlands) and New Orleans. He and his wife, novelist Amanda Boyden, are both currently writers-in-residence at the University of New Orleans.