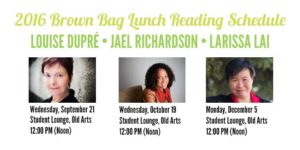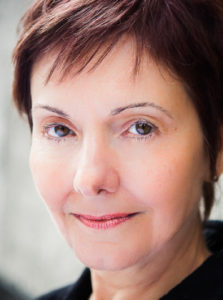 LOUISE DUPRÉ
WEDNESDAY, SEPTEMBER 21
STUDENT LOUNGE
ARTS & CONVOCATION HALL
This reading will be both in French and English
Poète, romancière, nouvelliste et essayiste, Dupré a publié une vingtaine de titres, qui lui ont été maintes fois récompensés. Parmi ses recueils de poésie comptent Noir déjà, Tout près, Une écharde sous ton ongle et Plus haut que les flammes, qui en 2011 lui a mérité le Prix du Gouverneur général du Canada et le Grand Prix Québecor du Festival International de la Poésie. Récipiendaire, entre autres, du prix Alfred-Desrochers et du prix Ringuet, Louise Dupré a été reçue dans les rangs de l'Académie des lettres et des sciences humaines de la Société royale du Canada et dans ceux de l'Académie des lettres du Québec.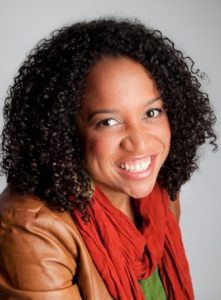 JAEL RICHARDSON
IN COLLABORATION WITH
WEDNESDAY, OCTOBER 19
STUDENT LOUNGE
ARTS & CONVOCATION HALL
Jael Richardson is the author of The Stone Thrower: A Daughter's Lesson, a Father's Life, a memoir based on her relationship with her father, CFL quarterback Chuck Ealey. The book received a CBC Bookie Award and earned Richardson an Acclaim Award and a My People Award. Excerpts from her first play, my upside down black face, are published in the anthology T-Dot Griots. Richardson has an MFA in Creative Writing from the University of Guelph. She lives in Brampton where she serves as the Artistic Director for the Festival of Literary Diversity (FOLD).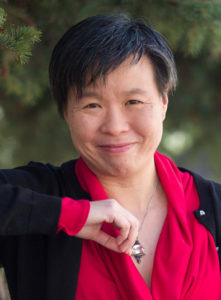 LARISSA LAI
MONDAY, DECEMBER 5
STUDENT LOUNGE
ARTS & CONVOCATION HALL
Larissa Lai is the author of When Fox Is a Thousand, Salt Fish Girl, sybil unrest with Rita Wong, Automaton Biographies, Eggs in the Basket, and Slanting I, Imagining We: Asian Canadian Literary Production in the 1980s and 1990s. She is a recipient of the Astraea Foundation Emerging Writers Award and has been shortlisted for the Books in Canada First Novel Award, the City of Calgary W.O. Mitchell Award, the bpNichol Chapbook Award, and the Dorothy Livesay Prize. She holds a Canada Research Chair in Creative Writing at the University of Calgary and directs The Insurgent Architects' House for Creative Writing.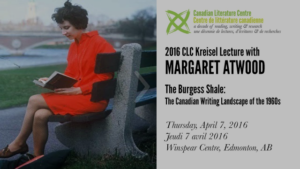 Click HERE to see the 2016 CLC Kreisel Lecture with Margaret Atwood.