Call for Papers /
Upcoming Conferences
SCL/ÉLC
Digital Textualities/Canadian Contexts
Essays on the intersection of text and the digital in the Canadian context are invited by the Canadian Writing Research Collaboratory/Collaboratoire scientifique des écrits du Canada (CSÉC/CWRC) for a special issue of Studies in Canadian Literature/Études en littérature canadienne on digital approaches to writing and culture in Canada.
We are interested in submissions that take up digital literary or cultural research, broadly conceived, in Canada. Essay topics might include, but are not limited to, the following:
•digital humanities research in and on Canadian literature and culture: histories, trends, practices, possibilities, resources
•reading and writing (about) Canadian literature in the digital age
•Indigeneity and digital culture
•Canadian e-literature
•digital collaboration: working collectively in the academic context
•online research and the academy: support, structures, protocols
•producing and reading digital texts
•technologies of image, text, and sound preservation and presentation
•intellectual property
•gender and marginalized identities in a digital context
•invisible research and development: digital researcher as academic avatar
•reading and writing digital games
•interfaces: design, politics, subjectivities
•digital readership: identifying constituencies for research
•close and distant readings of digital texts
•digital self-publishing
•the borders and the shape of the digital nation
•area studies and digital scholarship in Canadian contexts: who is digital and why?
•crossing disciplinary, institutional, and community divides; public facing digital humanities
•the contexts, challenges, and discontents of collaboration
•new technologies and old scholarship: bibliography in the digital context
•the impact of digital humanities resources in and on Canada on literary and cultural study; anthologies and datasets
•Canadian innovations in text analysis and text mining
The issue will also be published in an open-access digital version that will allow interlinking with digital materials. Submissions should be 6,000-8,000 words in length, including Notes and Works Cited, and should conform to the MLA Handbook, 8th edition. We welcome submissions in English and in French.
Please send essays along with a 150-word biographical statement before January 5, 2022 by email to Susan Brown [email protected] and/or Cecily Devereux [email protected]

Constituting Canada: Interdisciplinary approaches to an idea
A conference hosted by the Association for Canadian Studies in Australia and New Zealand (ACSANZ)
Venue:                        University of Wollongong, Wollongong, NSW, Australia
Date:                           Thursday 13th July – Friday 14th July, 2017
Keynote Speaker:      Associate Professor Eric Adams, Faculty of Law, University of Alberta
2017 marks 150 years since the inception of the Canadian state with the British North America Act, 1867, and 35 years since 1982's constitutional patriation, including the enactment of the Canadian Charter of Rights and Freedoms. While legal acts serve as focal points for the creation (and re-creation) of the Canadian state, the connotations of Canada's constitutive documents operate across law, politics, history, geography, society, and culture, with consequences for the past, present, and future. To engage with the manifold cultural-legal meanings that constitutions and their anniversaries evoke and contest, the Association for Canadian Studies in Australia and New Zealand (ACSANZ) invites abstracts for papers that address the idea of constitutions and Canada.
The conference will ask how nations, states, and peoples in Canada have been constituted, and investigate the significance of constitutive moments in the Canadian context. Participants are invited to reflect on questions that include, but are not limited by:
How do constitutive documents represent, legitimate, or deny Indigenous, multicultural, gendered, and federal histories and claims?
How has Canada's constitutional model and history shaped Canada, and how have these changes resonated internationally?
How do the arts constitute Canada and its communities? How are constitutive texts and histories reflected upon in the arts, and how are the arts shaping Canada's legal consciousness?
How has the Canadian Constitution addressed its imposition upon pre-contact societies with their own legal and political orders?
What does the presence (or absence) of rights language in foundational documents like constitutions mean for their legal and affective power?
How do we remember and represent the creation of states and nations, and what does it mean to celebrate such a contested moment in time?
What attributes of Canada's Constitution and its experience that have special resonance for Australia and New Zealand?
What possibilities does constitutional change offer for imagining and re-imagining Canada?
Contributions from across disciplines that deal with all aspects of Canada and Canadian Studies, including from a comparative perspective, are welcomed.
Please email an abstract and brief bio to Dr Robyn Morris ([email protected]) and Dr Benjamin Authers ([email protected]) before Dec 1st, 2016. To assist with planning, earlier abstracts are welcomed and will be evaluated when they are submitted.
ÉCHANGES/EXCHANGES: CONVERSATIONS-COMMERCE-COMMUNITIES 2016
The 20th Biennial Conference of the ACQS / Le 20e colloque bisannuel de l'ACQS:

November 3-6, 2016, at the Westin Harborview Hotel, Portland, ME
The American Council for Québec Studies invites proposals for papers and panels for our upcoming
conference in November 2016. If the conference theme is open to a wide range of approaches across
the Social Sciences and Humanities, our hope is to underscore the importance of cultural, economic,
and interpersonal exchanges between Québec and her North American neighbors, between
Francophone, Anglophone, and Allophone communities. We welcome and will consider proposals
related to any aspect of Québec studies; submissions of both individual papers and completed panels
are encouraged. Please consult our website for more details: www.acqs.org
To submit an abstract: All submissions (abstracts of +/-250 words) are made via the ACQS website. Click
on "Submit proposal".
To post a panel description on the ACQS website in order to solicit abstracts: Send the title of your
proposed session and a short description (+/- 250 words), as well as your name, affiliation, and contact
information to: [email protected]
To propose a complete session: Each presenter should submit their abstract individually, indicating the
session title and chair under the rubric "comments"
Conference presentations can be made in French or English.
The deadline for the submission of abstracts is April 15, 2016.
The ACQS is happy to announce a group rate of $169 at the Westin Harborview Hotel, Portland, ME; a
link for reservations will be posted on the ACQS website in Spring 2016.
More information can be found here: ACQS2016
Speaking Her Mind: Canadian Women and Public Presence
How are women engaging with public discussion and debate in Canada?
Speaking Her Mind: Canadian Women and Public Presence is the follow-up conference to
Discourse and Dynamics: Canadian Women as Public Intellectuals, which took place at Mount
Allison University in October 2014 (see http://discoursedynamics.ca/). As Discourse and
Dynamics made clear, "public intellectual" remains an unsatisfactory term for many women who
have contributed to and continue to engage in public discussion and debate in Canada. Speaking
Her Mind aims to take that investigation to the next level.
Proposals are invited for presentations that explore Canadian women's public presence on
questions of concern related to social, political, cultural, economic, literary, artistic, linguistic,
diplomatic, and environmental issues. A wide range of participation is invited, from individual
papers to panels, performances, or other forms of discussion. The following are suggestions but
all proposals for individual or collaborative presentations are welcome.
• Women's right to speak
• Public presences that have made a difference
• When the body speaks
• Speaking about violence, poverty, racism, health
• Politics and its Discontents
• Entering/leaving the public sphere
• Opinions and their backlash
• Forms of speaking: literature, art, music, dance, photography
Proposals should include:
1. title (up to 150 characters) 2. abstract (100-150 words) 3. description (300 words)
& on a separate page a short biographical note and full contact information
Proposals may be submitted electronically by September 28, 2021 to
[email protected]
—————-
ORGANIZERS:
Aritha van Herk
Professor, Department of English
2500 University Dr. N.W.
University of Calgary
Calgary, Alberta
T2N 1N4
Christl Verduyn
Director, Centre for Canadian Studies
Professor, Department of English
Mount Allison University
Sackville, New Brunswick
E4L 1G9
Past Conferences, Lectures and Seminars
DIGITAL TEXTUALITIES/CANADIAN CONTEXTS
TEXTUALITÉS NUMÉRIQUES/CONTEXTES CANADIENS
Canadian Writing Research Collaboratory Launch
Conference, Sept. 20-22, 2016
Papers on the intersection of text and the digital in the Canadian context are invited for a two-day conference celebrating the launch of the Canadian Writing Research Collaboratory (CWRC) at the University of Alberta.
Keynote: Lori Emerson (University of Colorado at Boulder)
The conference provides an occasion to take stock of digital approaches to writing and culture in Canada, whether they focus on Canadian artifacts or digitally investigate literary and cultural matters from within the Canadian academic context. How have the particulars of Canadian culture, infrastructure, and academic structures impacted digital literary and cultural studies? What kinds of local, regional, organizational, institutional, or national factors have inflected the relationship between culture and technology in Canada? Are our diverse identities, histories, politics, and infrastructures reflected in how we read, write, and research digitally? What have digital approaches contributed to our understanding of Canadian literature, culture, and identity categories?
CWRC is an online environment for scholarly research, bringing together Canadian and international researchers who work with online technologies to investigate writing and related cultural practices relevant to the Canadian context. CWRC supports the creating, uploading, sharing, enhancing and curating of research materials by interlinking the contents of individual projects and by supporting team-based collaboration. It brings together bibliographical, biographical, critical, and prosopographical work, scholarly transcription and editing, and multi-media collections, supporting scholars interested in exploring the potential of digital knowledge production to advance their research agendas.
For those interested in trying out the CWRC research space, free workshops will be offered on Tuesday September 20th and Thursday September 22nd. We are interested in papers that take up digital literary or cultural research, broadly conceived, in Canada, including, for instance,
digital humanities research in and on Canadian literature and culture: histories, trends, practices, possibilities, resources
reading and writing (about) Canadian literature in the digital age
Indigeneity and digital culture
Canadian e-literature
digital collaboration: working collectively in the academic context
online research and the academy: support, structures, protocols
producing and reading digital text
technologies of image, text, and sound preservation and presentation
intellectual property
gender and marginalized identities in a digital context
invisible research and development: digital researcher as academic avatar
reading and writing digital games
interfaces: design, politics, subjectivities
digital readership: identifying constituencies for research
close and distant readings of digital texts
digital self-publishing
the borders and the shape of the digital nation
area studies and digital scholarship in Canadian contexts: who is digital and why?
crossing disciplinary, institutional, and community divides; public facing digital humanities
the contexts, challenges and discontents of collaboration
new technologies and old scholarship: bibliography in the digital context
the impact of digital humanities resources in and on Canada on literary and cultural study; anthologies and datasets
Canadian innovations in text analysis and text mining
Please send 250-word proposals in English or French for 20-minute papers along with a 150-word biographical statement by email to [email protected] by March 20, 2021.
COLLOQUE INTERNATIONAL / CONGRÈS AFEC 2016


Grenoble, 8-­10 juin 2016
Call for Papers: Canadian Identity/Identities and Global Change
More information can be found here: AFEC2016
AFFECT THEORY CONFERENCE: WORLDINGS/TENSIONS/FUTURES

Millersville University's Ware Center, Lancaster PA, October 14-17, 2015
Stream #6 – Posthuman Affects in 21st-Century Feminist Production
 Dr. Libe García Zarranz (U. Manitoba, Canada) & Dr. Belén Martín-Lucas (U. Vigo, Spain)
This Stream proposes a conversation between recent interventions in the field of affect studies
(Berlant 2010; Stewart 2007) and critical posthumanism (Braidotti 2013; Colebrook 2014) through
the lens of twenty-first-century feminist production. We are particularly interested in proposals
addressing the work of those writers and visual artists who not only advocate for politically-engaged
resistance, but who also contribute to the formulation of a posthuman aesthetic and ethic alongside
and beyond traditional humanist ideologies, exclusionary epistemologies, and necropolitical impulses
(Mbembe 2003). We are seeking proposals that look at contemporary modes of feminist production
that trace a genealogy of posthuman affects understood as an alternative affective archive that could
counteract so-called "normative affects" (Ahmed 2004). The methodological questions that fuel our
Stream Proposal can be summed up as follows:
* How does feminism intersect with critical posthumanism in relation to affect?
* How do recent articulations of the posthuman condition, in their critique of exclusionary policies
and systemic violence, allow for a reconfiguration of affective boundaries?
* How do contemporary feminist writers and artists contribute to the creation of an archive of
posthuman affects?
* How do they problematize multiple boundaries beyond negative critique?
* How do these posthuman affects differ from non-Western (or non-Eurocentric) epistemologies on
affect, and where do they converge?
This Stream stresses the porosity of the boundaries between affect studies, critical post-humanism,
and feminisms in order to find potential alliances between these interdisciplinary methodological
frameworks. By doing so, we seek to contribute to a discussion on how to build a sustainable
trajectory for the humanities, or the posthumanities, in the twenty-first century.
Possible Topics:
Posthuman Feminist Affects
Post-Feminist vs Posthuman Affects
Posthuman Affects in Postcolonial Feminist Production
Critical Posthumanism and Queer Affects
Globalized Markets and Posthuman Affects
Affecting Transdisciplinarity:
 Critical posthumanism & indigenous studies
 Critical posthumanism & transgender studies
 Critical posthumanism & animal studies
 Critical posthumanism & material feminisms
Posthuman Digital Affects
Critical Posthumanism & Affect in Academia
Feminist Affects in the Humanities and the Posthumanities
Submit a 250-word PAPER ABSTRACT to [email protected] by Monday, May 18.
More information can be found here: http://www.affecttheorymu.com/
CFP: The Posthuman and 21st Century Women's Writing in Canada
The Association for Canadian and Québec Literatures Annual Conference (ACQL)
University of Ottawa, Canada (May 30—June 2, 2015)
Organizer: Libe García Zarranz (University of Alberta)
The first decade of the 21st century has witnessed the "slow death" (Berlant 2007) of
several manifestations of "humanism" and "the human" and its replacement by novel
conceptualizations of "the posthuman" (Braidotti 2013; Wolfe 2009; Bart, Didur, and
Heffernan 2003). Out of a mixture of deception and anger towards the conduct of human
beings as active contributors to the structural violences that dominate today's world, the
posthuman framework has been welcomed as an alternative paradigm where the ethical,
the material, and the social meet. As feminist philosopher Rosi Braidotti convincingly
puts it, "A posthuman ethics for a non-unitary subject proposes an enlarged sense of
inter-connection between self and others, including the non-human or 'earth' others, by
removing the obstacle of self-centred individualism" (49-50). At the roots of this critical
posthumanism, then, we find alternative theorizations of difference and agency that
complement earlier and current feminist, anti-racist, postcolonial, and environmental
discourses (Nixon 2011; Ahmed 2004; Said 1993).
This panel seeks contributions that propose a careful consideration of the posthuman
predicament as an analytical framework from which to reimagine the field of Canadian
women's writing today. How do recent articulations of the posthuman condition, in their
critique of exclusionary policies and systemic violence, allow for a reconfiguration of
ethico-political boundaries? How do contemporary Canadian women writers contribute to
a formulation of a posthuman ethic by problematizing and redefining multiple boundaries
beyond negative critique?
Please send paper proposals (no more than 300 words) in French or English, with a short
biography and a 50-word abstract in Word or RTF to Libe García Zarranz
([email protected]) by 1 February 2015.
Studies in Canadian Literature
is turning 40!!! Join the celebration!
To commemorate this significant milestone (1976-2016), Studies in Canadian Literature is putting together a special issue dedicated to the past 40 years in Canadian literature.
Call for Papers: Canadian Literature: The Past Forty Years
Having published its first issue in 1976, Studies in Canadian Literature/Études en littérature canadienne will be celebrating its 40th anniversary in 2016. This special issue will be dedicated to the past forty years in Canadian literary production and scholarship. The period witnessed substantial developments and shifts in the field, from the legitimation of Canadian literature as an academic field of study and the rise of popular non-academic phenomena such as "Canada Reads" and the Giller Prize, to significant literary and critical movements: postmodernism, postcolonialism, feminism, canon debates, new historicism, Indigenous studies, book history, transnationalism, critical race theory, queer studies, diaspora studies, and, more recently, advances in the fields of digital humanities and ecocriticism. Many of these changes resonated in important ways with broader political and cultural events in Canada, such as the official Multiculturalism Act in 1988, the free-trade debates of the late 1980s, the 1990 Oka crisis, the constitutional crisis and ensuing referendum of 1990, the Japanese-Canadian Redress Movement, the "appropriation of voice" debates of the 1990s, the formation of the Territory of Nunavut in 1999, the demise of many Canadian small presses and bookstores, and the Harper government's cancellation of the "Understanding Canada" program and its adverse effects on Canadian studies internationally. This period saw the publication of many groundbreaking literary texts, the selection of Canadian authors for several prestigious international awards, and the rise of Canadian literature as a popular subject of study internationally, but also the death of many authors and critics associated with the heyday of Canadian literature, including such figures as Margaret Laurence, Gabrielle Roy, Robertson Davies, Mordecai Richler, Timothy Findley, Robert Kroetsch, Barbara Godard, Anne Hébert, Northrop Frye, Carol Shields, Mavis Gallant, Gaston Miron, David French, Rita Joe, Farley Mowat, and Alistair MacLeod. Looking back on the past forty years, how do we assess the changes that have taken place in this period? In what ways have the past forty years been formative (or not) in the development of Canadian literature? In what sense can one trace a series of identifiable shifts and/or interventions? What is the value of a generational analysis of Canadian literature? In what ways has the period been marked by a series of disjunctions?
Studies in Canadian Literature/Études en littérature canadienne invites submissions for essays that engage with the past four decades from a range of entry points and perspectives. We welcome papers on topics including, but not limited to:
shifts in authorship and/or critical focus over the past 40 years
the significance of the cultural nationalist period of Canadian literary production and scholarship
literary reputations and celebrity
new authors emerging during this period
looking backward and/or looking forward
the influence of electronic and digital media
the legacy of postmodernism and/or postcolonialism; the linguistic "turn"
new theoretical areas that emerged during this period: e.g. trauma theory, affect theory, life-writing, memory studies, ecocriticism
revised configurations of the concept of "nation"
the rise of historical fiction
international developments in Canadian literary study
shifts in Canadian literary pedagogy
changes in conceptualizations of regionalism
new developments in Canadian poetry
changes in Canadian theatre production
discourses of optimism and/or crisis
Please send us something and be part of the celebration! The anniversary issue will be inaugurated by a special session at the 2015 Congress dedicated to this topic and an early anniversary birthday cake! Join us at Congress for a piece of cake!
Submissions should be 6,000-8,000 words, including Notes and Works Cited, and should conform to the MLA Handbook, 7th edition. Please submit essays electronically via Word attachment to [email protected] . Deadline for submissions is 1 August 2015, with publication scheduled for 2016. We welcome submissions in English and in French. For more information, visit the journal's website at http://journals.hil.unb.ca/index.php/SCL/ or contact Cynthia Sugars at [email protected], or Herb Wyile at [email protected].
Call for Papers – Teaching Canada International Conference
June 25-27, 2015
Marburg, Germany
From June 25-27, 2015, the Marburg Centre for Canadian Studies, an interdisciplinary research centre at the University of Marburg, will be hosting its traditional Canadian Studies Day, an international conference that aims at exploring Canada as a theme for teaching at the levels of secondary and tertiary education.
We invite contributions on the topic of "Teaching Canada – Enseigner le Canada" from scholars, teachers and students. The conference will explore suitable subjects for teaching on university and high-school levels, best-practice examples and will promote the exchange of ideas for future teaching. Preferred conference languages are English and French.
Areas of specialization might include:
Literature (both English- and French-Canadian)
Linguistics
History
Political Science
Cultural Studies
Media Studies
Geography
We are delighted to announce that our keynote speakers will be: Professor David Staines (Ottawa) and Prof. Dr. Waldemar Zacharasiewicz (Vienna).
Please send 250-word proposals for 30-minute papers and a short biographical note (100 words) to [email protected] The deadline for submissions is November 30, 2014.
For further information visit our website: www.uni-marburg.de/mzks/aktuelles or contact Prof. Dr. Martin Kuester, Director of the Marburg Centre for Canadian Studies: [email protected]
For more information about the conference, click Submit a Proposal
CALL FOR PROPOSALS
for a special bilingual issue of the
Canadian Review of Comparative Literature (CRCL)
entitled
"Environmental Ethics and Activism in Indigenous Literature and Film"
co-edited by
Warren Cariou (University d (University of Manitoba)of Manitoba), Niigaanwewidam James Sinclair (University of Manitoba) and Isabelle St-Amand (University of Manitoba)
This special journal edition aims to showcase comparative perspectives on the issues of
environmental ethics and activism in Indigenous cultures, and also to highlight the relationships
among different media and genres of Indigenous creative expression. We want to explore the
diverse and interrelated forms of Indigenous creativity, including literature, film, new media and
performance. Our comparative and bilingual approach seeks to explore themes of environmental
ethics and activism in a contemporary context where resource extraction and industrialization are
increasingly being countered by indigenized forms of thought and action. We encourage
proposals that examine the discourses, aesthetics, and knowledges that are emerging at the
intersections of public protest, artistic expression, and environmental ethics. Themes to be
examined include but are not limited to:
Land and sovereignty
Relationships between human and other-than-human
Colonial violence and resource extraction
Urban rallies and embodied knowledge
Kinship and responsibilities
Resistance and resurgence
Territories of the imagination
Proposals (300 words): February 1st, 2015
Final submissions (preference given to articles between 6000 to 7500 words): July 15th, 2015
The CRCL is a pluralistic, bilingual and peer-reviewed journal devoted to projects and articles
that speak to concerns in Canadian culture and literature and beyond in a comparative context.
The CRCL encourage excellence and are blind to the stage of the scholar or his or her identity.
The Literary Narrative, the Biomedical Body and Citizenship in Canada
Conference
5 December, 2014. Université de Limoges, France
Chaire d'études sur le Canada.
Pôle de recherche et d'enseignement supérieur (PRES) Limousin-Poitou-Charentes.
— Titulaire 2014-2015: Dr Daniel Laforest —
in collaboration with The Canadian Literature Centre / Centre de littérature canadienne – University of Alberta
This one-day bilingual conference focuses on relations between literary storytelling, the biomedical body, the health care system, and citizenship in Canada. Canadian culture enjoys an international image that revolves around hospitality and a liberal conception of the good life (Berlant, 2011; Ahmed, 2010), showcasing a flexible and integrative model of citizenship. Literature, however, as it draws inspiration from the human body and its biomedical management, produces several emergent yet unexplored models that challenge the dominant image of Canadian citizenry. The interdisciplinary field of medical humanities –mostly in the U.S.– has outlined such an approach; one that considers the fluctuating and often-controversial representations of our biological body in society (Charron 2008; Detrez 2002; Lynch 2001; Franck 1997; Korte 1997; Nelson 1997). But in the panorama of Canadian Studies, and especially when it comes to Canadian and Québécois literature, discussions surrounding the literary body remain embryonic.
Literary stories involving the biological/biomedical body are strikingly different from the traditional bildungsroman-type narrative structure (Gotschall 2013; Brennan 2004; Damasio 2003). This distinction entails a number of significant yet unexplored consequences regarding the development of narrative arts and community belonging across Canada.
1) The relative sobriety and calculations required by health regimens, by the physical and mental declines of old age, by the "accidents" that radically alter one's identity (Malabou 2009), or by the unequal rhythms and lifespan of organs along with the possibility of their transplant, quickly prove to be incompatible with the subjective flourishing of the good life that dominates our images of citizenship. Given the public nature of Canada's health care system, those circumstances instead become the objects of the social management of health, the impacts and implications of which we hardly understand when it comes to the construction, the transmission, and the perpetuation of individual and family narratives.
2) The rapid mutation of the very fabric of communities resulting from immigration and the integration within Canada's middle-class of individuals and families hailing from very different cultures creates untold and fascinating cohabitations of heterogeneous conceptions of health alongside the biological body. Rhythms of treatment vary; beliefs sometimes clash with medical science; illness itself will eventually possess a varying status depending on who defines it, who experiences it, and who treats it. Thus, if Canadian citizenship is bestowed on the individual by decree, we are unable to say the same about the individual's health. But health conditions nevertheless shape, just as much, if not moreso, the idea that one develops of one's self and of one's belonging. How do literary narratives – those of immigration, or migrance in Quebec, as well as those of a more national perspective, integrate such crucial conditions of contemporary life? Ultimately, what are the implications therein for literature itself?
Writers working in both official languages in Canada offer original approaches to those questions. Lawrence Hill, for example, published his 2013 Massey Lectures (Blood: The Stuff of Life) on blood as conceived as a transcultural theme, without losing sight of its medical and scientific permutation according to various cultures in Canada. Toronto writer Vincent Lam's Giller prize-winning book Bloodletting and Miraculous Cures (2005) draws largely from Lam's experience as a physician in the emergency ward. On the francophone side we can cite Gil Courtemanche, whose novel Une belle mort (2005) combines themes of loneliness, ageing, and the experience of cancer. And the novels of Nelly Arcan, whose narrators are all preoccupied with the fate of the physical body and its intersection with the less-visible internal struggle and the scars caused by mental illness.
Possible approaches (not limited to):
- Cultural cohabitations; interculturalism; transculturalism.
- Écritures migrantes and health.
- Life-writing; autobiography; auto-fiction and illness.
- Family histories.
- Histories of organs.
- The self, the body, and mental illness.
- Urban life and health.
- Aging.
- Drugs.
- Sexuality and gender studies.
- Representations of the medical practice.
- Dystopia; utopia; futuristic stories.
- Theories of the subject.
- Philosophy and ethics of care.
- Comparisons Canada/US.
- Comparisons Quebec / Anglo-Canada / Franco-Canada.
Send your propositions (300 words max.), in English or French, to [email protected] by 01 August, 2014.
The organizing committee will communicate its decision by mid-August 2014.
Call for Papers: Queer Québec Colloquium,
in association with Biennial Conference of American Council for Québec Studies
October 16-19, 2014
Montréal Marriott Chateau Champlain
Montréal, Canada.
For more information about the conference, click Submit a Proposal


Diverse Spaces:
Examining identity, community and citizenship within Canadian public culture
Presented by the Frost Centre for Canadian Studies and Indigenous Studies
Trent University, Peterborough, ON, 20-21 April 2012
Identity, belonging and citizenship within the nation state are established, contested and legitimized within sites and institutions of public culture, heritage and representation. In Canada, people from diverse cultural backgrounds seek to engage with cultural, historical and social knowledge in these spaces. While public museums have been primary sites of engagement, some people have sought to create alternative opportunities and institutional spaces to express and represent the complexities of their histories, identities, communities and places in both Canadian and global society. We are seeking papers that explore the roles that all types of public spaces play in the expression or contestation of different histories, different identities, and different forms of community, national and transnational citizenship.
The goal of this conference is to bring together a wide range of academics, professionals, community leaders and students to examine, analyze and theorize the dynamics of public cultural institutions in relation to the putative multicultural nation of Canada. What negotiations, relationships, compromises, conflicts, successes or failures emerge as new spaces are established, and as old ones are reconstituted or rethought? We welcome papers and panels from all disciplines and interdisciplinary fields that touch on the spaces, the structures, the goals, the practices, the people or the processes of public cultural and heritage institutions on local, community, national or international scales that comparatively or specifically offer comment on the Canadian context. Possible topics might include, but are not limited to:
Conceptualizing difference/diversity/multiculturalism/pluralism in public spaces
Representing the multicultural "we" in national spaces
New social and cultural spaces of representation
Collecting the transnational/multicultural 'citizen'
Virtual/digital collections and the 'real' of the public sphere
Diaspora, migrations, uprooting and 'heritage'
Spaces of memory and testimony
Donors, diversity, and 'new' museum publics
State museums/institutions and representations of citizenship
Citizenship/community in public spaces from above, below and afar
Cross-cultural encounters in public spaces/institutions
Museums and collaborative processes
Virtual worlds, public culture and representation
New media and transnational identities
Please submit either (a) 250 word abstracts for individual papers, or (b) proposals for panels including 3 papers by August 31, 2021 to [email protected]. Accepted papers and panels will be announced by the end of January, 2012.
The conference is organized by Julia Harrison, Director, and Susan Ashley, SSHRC Postdoctoral Fellow in the Frost Centre for Canadian Studies and Indigenous Studies, Trent University, Peterborough, Canada.

Canadian Creative Writers and Writing Program (CCWWP) Conference 2012
"Creative Writing in the 21st Century:
Research and Practice"
Humber Lakeshore Campus, Toronto, 10 - 13 May 2021
Keynote speakers:
Joseph Boyden
Nicole Brossard
David Fenza
Erin Mouré
Yvette Nolan
Tim O'Brien
This conference offers participants the opportunity to present creative or critical papers and to engage in intellectual exchanges with other teachers and writers; to discuss, debate and explore topics and findings in creative writing research; to discuss the teaching and learning of creative writing in universities, colleges and communities, and to contribute knowledge to a field of investigative inquiry that includes research, pedagogy, and artistic practice.
The Conference Committee invites proposals for papers and panels of theoretical, creative, and critical papers on the conference topic. The committee invites dynamic and innovative approaches to presentations and welcomes presentations that employ critical and creative strategies and forms. Multi-media and collaborative presentations are also encouraged. Papers should be approx 20 minutes in length. Panel proposals of three presenters may address a common theme.
The committee welcomes proposals from Canadian and international participants, as well as proposals from authors, editors, administrators, and teachers with a range of global perspectives on creative writing. Presenters may propose presentations in the following categories:
Theoretical and critical papers
Please submit an abstract of 300 words for a 20 minute presentation. Individual presenters should include a brief biographical note of 150 words, as well as full contact information.
Creative readings
Proposals should include a sample of work (10 poems; literary non-fiction and fiction 10-12 pages; plays 10-12 pages, or hybrid forms 10-12 pages). Creative panels with three readers may also be proposed. Submit a 300-word abstract, 150-word bio and full contact information.
Panel presentations with three papers
Chairs should convene a panel and submit the proposal to the Conference Committee. Chairs should provide complete information on each presenter's paper, an overall focus for the panel, 300-word abstracts, biographical notes for each presenter, and contact information.
Possible topics include but are not limited to:
Investigations on the nature of creative writing practice and practice-led research
Analyses of creative writing practices in history and across cultures
Creative writing debates and discussions on literary genres and pedagogy
Research on creative writing pedagogy and practices
Research on creative writing programs
Translation of literary works; cross-cultural, cross-linguistic and multi-lingual literary works
Hybrid and experimental forms of creative writing
Creative writing in digital media, social networks, blogs, twitter, e-learning
Literary publishing and the creative writer in a multi-media universe
Creative writing as a discipline in higher-education institutions
Creative writing in communities and public spaces (hospitals, prisons, immigrant and community groups, etc)
Reading and writing creative practice
The role of reading in artistic and creative writing pedagogy
The state of creative writing programs in international settings (U.S., U.K, Europe, Asia, Australia, and others)
Abstracts and proposals should be sent electronically in Word-formatted attachments to the CFP at: [email protected] no later than September 30, 2021.
For more information, go to http://ccwwp.ca.

Where is Québec in Canadian Studies?
School of Canadian Studies,
Carleton University
Ottawa, Ontario, 22 May 2021
www.carleton.ca/canadianstudies
Thinking about Québec's place in Canada was one of the major factors leading to the rise of the Canadian Studies movement. This drove scholarly research into questions of identity, federalism, cultural studies, marginalities, relations with Indigenous peoples, gender, and other areas that were reshaping Canada. However, forty years later, following intense national debates about official languages and multiculturalism, concern about Québec's place in Canada has seemingly waned. Our experience in teaching Canadian Studies outside of Québec at the B.A., M.A., and Ph.D. level reveals that a growing number of students have little knowledge — historical or otherwise — of Québec and its place in Canada. Moreover, the Canadian Studies curriculum and research literature often ignore questions of Québec and the associated issue of the status of the French language in Canada. Canadian Studies programs in Canada and abroad often compete with cultural studies programs (including Québec Studies programs). Therefore, we wish to invite prominent scholars of Québec Studies and Canadian Studies to address the question, "Where is Québec in Canadian Studies?"
This bilingual conference seeks to bring together scholars and instructors, as well as directors and chairs of Canadian and Québec Studies programs, from Canada and abroad, in order to renew Canadian Studies and build bridges between these two disciplines, which share institutions, instructors, languages, history, and geography. Held on May 22, 2021, this one-day conference takes place just before the opening of the International Council for Canadian Studies Biennial Conference. Participants will be able to attend the opening night of the ICCS Conference on the evening of May 22. Themes that may be addressed include (though are not limited to):
Reflections on how we teach and research Canadian and Québec Studies
Pedagogical, intellectual, and institutional links between Canadian and Québec Studies
The particular linguistic and identity dimensions of Canada, especially the National Capital Region
Political and policy dimensions of Canadian and Québec Studies
Shared and separate lived experiences relating to Québec's place in Canada
Presentations may be given in English or French. An interpreter will be present to facilitate discussions.
Please send an abstract of 250 words and a brief biography in English or French to:
Richard Nimijean, [email protected], or
Anne Trépanier, [email protected]
by December 15, 2021.
Papers must be submitted by April 30, 2021, so that discussants have time to prepare comments. Conference participants will be encouraged to submit revised drafts for peer review by August 15, 2021 (publication details to follow).

"Exile's Return"
An EMiC Colloquium at the Sorbonne Nouvelle
Paris, France, 28 - 30 June 2021
Organized by Marta Dvorak (Sorbonne Nouvelle), Dean Irvine (Dalhousie), Kit Dobson (Mt. Royal University), and Matt Huculak (Dalhousie)
Hosted by the Sorbonne Nouvelle and Editing Modernism in Canada (EMiC)
Keynote speaker: Mavis Gallant
When she moved to Paris in 1950, Mavis Gallant followed a route familiar to generations of modernist authors and artists from Canada and around the world. Many of these expatriates returned home and brought with them their impressions of the circles and salons, magazines and publishing houses, bookshops and galleries, stages and ateliers of Paris that facilitated the formation of modernism across the arts and around the globe. Conversely, they imported knowledge of cultural and aesthetic practices &emd; whether from North and South America, the Caribbean, Africa, the South Pacific, or the Pacific Rim &emd; that in turn revolutionized modernism across Europe.
Among Canada's other modernists who gravitated to Paris in the first half of the twentieth century were writers such as Marius Barbeau, Morley Callaghan, Marcel Dugas, John Glassco, Alain Grandbois, Anne Hébert, Dorothy Livesay, Jean-Aubert Loranger, Gaston Miron, Thérèse Renaud, Mordecai Richler, and Sheila Watson and artists such as Paul-Émile Borduas, Emily Carr, A.Y. Jackson, Fernand Leduc, Alfred Pellan, and Jean-Paul Riopelle. These expatriates gathered with others from around the world in what David Burke has designated as the West's intellectual capital of the early twentieth century, a global community that contributed to modernism's articulation across an array of cultural and artistic movements: art nouveau, cubism, Dada, existentialism, Fauvism, magic realism, negritude, pataphysics, psychoanalysis, surrealism, theatres of the absurd and cruelty, and so on. A century after the earliest of their transatlantic crossings, we return to commemorate the local, national, international, transnational, and global histories of modernism. In recognition of Paris's modernist legacies and their links to modernists from North America and elsewhere, this colloquium seeks to bring together scholars whose work investigates and participates in intercultural and transcultural exchanges, interlingual and multilingual translations, intermedial and interdisciplinary cross-fertilizations, as well as international and transnational collaborations. We welcome scholarship that addresses any of the multiple and intersecting modes of modernist cultural production in literature, theatre, the visual arts, and the performance arts.
Staged in one of the historic cities of modernism and in what geographer David Harvey calls one of the capitals of modernity, which facilitated the convergence of global communities, this colloquium also invites the participation of scholars whose work builds and circulates through global networks and digital technologies. We encourage presentations that address issues relevant to the global and digital turns of modernist studies in the twenty-first century, including the transformations of modernist media, the remediation of modernism in new media, the representation and interpretation of modernist aesthetics in innovative reading environments, and the implementation of web-based tools to represent the material conditions and geographic locations of modernism's production.
Subjects, or points of entry, may include, but are not limited to, the following:
modernisms in Paris, Parisian modernisms
exile, expatriation, emigration, migrancy
nationalism, internationalism, transnationalism
globalism, globalization, planetarity
transculturality and interculturality
intermediality and interdisciplinarity
languages, translation, multilingual cultures
collaboration, communities, networks, commons
digital humanities, new media, remediation, multimedia, social media
digital editions, archives, libraries, repositories, collections, exhibitions
We welcome proposals for panel presentations. Panels will feature the standard sequence of 3 or 4 speakers delivering 15-20 minute talks followed by a question period and discussion. We also welcome proposals of roundtable sessions, which may consist of 5 or 6 speakers gathered around issues or topics of common concern in order to generate discussion among the participants and with the audience. Roundtable organizers should ask participants to deliver short position statements in response to material distributed in advance by the session organizer, and they should take turns responding to the moderator's and audience's questions and comments.
Selected papers by conference participants will be collected in a planned volume of conference proceedings.
A limited number of subventions for EMiC participants (co-applicants, collaborators, postdocs, and graduate fellows) will be available to defray travel and accommodation expenses. See the colloquium page on the project website for more details: editingmodernism.ca/events/nouvelle-sorbonne.
Please submit 500-word proposal, 100-word abstract, and 50-word biographical statement via email to: [email protected] by 1 September, 2011.
For more information about the EMiC project, please visit our website at editingmodernism.ca or contact us at [email protected].
EMiC is funded by a Strategic Knowledge Cluster grant from the Social Sciences and Humanities Research Council of Canada.

L.M. Montgomery Institute
10th Biennial Conference:
"L.M. Montgomery and Cultural Memory"
"Nothing is ever really lost to us as long as we remember it." — The Golden Road (1913)
"and even if you are not Abegweit-born you will say, 'Why … I have come home!'" — Prince Edward Island (1939)
University of Prince Edward Island, 21 - 24 June 2021
For the tenth biennial conference hosted by the L.M. Montgomery Institute at the University of Prince Edward Island, we invite scholars, writers, readers, and cultural producers of all kinds to consider the topic of L.M. Montgomery and cultural memory. A term that originated in the field of archaeology and that now resonates in a wide range of disciplines, cultural memory refers to the politics of remembering and forgetting, sometimes in opposition to official versions of the past and the present. Within textual studies, the term invites us to consider the ways in which the past, the present, and the future are remembered, recorded, and anticipated by members of a collective and encoded into text. As a result, cultural memory touches on a number of key concerns, including identity, belonging, citizenship, home, community, place, custom, religion, language, landscape, and the recovery and preservation of cultural ancestries.
But what versions of Prince Edward Island, of Canada, of the world do Montgomery's work and its derivatives encourage readers to remember? How do gender and genre (not to mention religion and power) affect and shape Montgomery's selective and strategic ways of remembering in her fiction and life writing? What acts of memory can be found in the depiction of writers, diarists, letter writers, oral storytellers, poets, and domestic artists in her fiction? What roles do domesticity, nature, conflict, and war play in the shaping and reshaping of cultural memory? To what extent do nostalgia and antimodernism drive Montgomery texts in print and on screen? How have these selective images of time and place been adapted to fit a range of reading publics all over the world?
The LMMI invites proposals for papers that will consider these issues in relation to Montgomery's fiction, poetry, life writing, photographs, and scrapbooks, and the range of adaptations and spinoffs in the areas of film, television, theatre, tourism, and online communities. Proposals for workshops, exhibits, films, and performances are also welcomed. Proposals should clearly articulate the proposed paper's argument and demonstrate familiarity with current scholarship in the field (please see lmmresearch.org/bibliography for an updated bibliography).
For more information, please contact the program chair, Dr. Benjamin Lefebvre, at: [email protected]. Submit a proposal of 200-250 words, a biographical statement of 70 words, and a list of A/V requirements by 15 August 2021 using the online form at the L.M. Montgomery Institute website, at: www.lmmontgomery.ca. Since all proposals are vetted blind, they should include no identifying information.

"Knowledge Transfer;
Knowledge from Practice.
Production and Mobilization of Knowledge
for an Inclusive Community"
International symposium of the Groupe de recherche sur l'inter/transculturalité et l'immigration (GRITI)
Campus Saint-Jean, University of Alberta
Edmonton, Canada
11 – 13 October 2021
The key question about inclusion within the context of immigration continues to be asked and to be problematized the world over in writings, symposiums, and forums, including of course in everyday practice, whether at the employment level or within learning establishments, to name but those two areas. Knowledge sharing between theoreticians and practitioners in the field does not always occur because too often they evolve within their own spheres: differing objectives and a language specific to each sets them apart.
The proposed symposium's objective is to eliminate or at the very least to considerably narrow this gap by creating a dialectical relation between the two so that this thought/action relation develops as a paradigm, thus activating the transfer of knowledge to current practices and, inversely, to theorize practices. As the title implies, this sharing aims to broaden and mobilize – "Thought arises from action to return to action," said Wallon (1942) – knowledge and practices in order to redefine inclusion models in communities transformed by immigration and, ultimately, relations between "cultural communities" and host countries, especially with regard to questions of identity, collective imaginaries, new symbolisms, common values to be developed…
This, in short, is the challenge posed by the symposium, which looks to extend the paradigm to the actual event by integrating into its own format a meta component — a continuous reflection on the dialogical relationship among participants, thereby allowing an immediate response to the ideas and actions proposed thereat. Needless to say, the symposium requires that participating theoreticians include a practical application in their proposals.
Some thematic suggestions for papers:
Production and exchange of practical knowledge
Interculturality, transculturality and an inclusive community
Institutions and the mobilization of knowledge
Immigration and common values
Institutions and modes of inclusion
Theoretical knowledge and a new symbolic
Identity and an imaginary of diversity
Structuring the intercultural dialogue in the institutional networks
New culture, new symbolic
Committed participants include: M. Abdallah-Pretceille (Paris VIII), Philippe Pierre (Paris-Dauphine/CNRS), and James Banks (Washington)
To register and to send your proposal (by November 1st 2011), see: www.csj.ualberta.ca/griti

MLCS Graduate Students Conference:
[DIS]COMFORT: (Re)examining Limits of Agency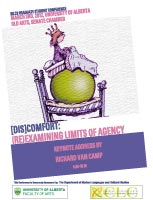 Saturday, March 3, 2012, 9:00 am to 5:00 pm
Senate Chamber, Arts & Convocation Hall
University of Alberta
The Modern Languages and Cultural Studies Graduate Student Council presents an interdisciplinary conference addressing the concept of (dis)comfort in a broad sense, and looks at the meaning and interaction of human and non-human agency in the changing circumstances of everyday life.
Keynote address: 9:20 am, by English and Film Studies Writer-in-Residence, Richard van Camp. The Canadian Literature Centre is pleased to be a supporter of this address.
To download the full programme, click here: MLCS Grad. Students Conference Programme
Topics of the conference include: agency of the body, embodiment and disembodiment of power, agent-object relationship, comfort and the question of ownership, construct of "home" and its experience, motherland and motherlands, dwelling in places and things, (dis)abilities of (dis)comfort, limits of agency in second language acquisition, dealing with discomfort in the classroom, and expressing discomfort in media.
Papers, panel discussions and roundtable discussions will be given by graduate students and recent alumni from all disciplines studying languages, literature, culture, society and translation, with selected papers possibly published in the MLCS Graduate Student Journal Multilingual Discourses.
Presentations will be 15 minutes in length and will be followed by a short discussion period. Panel discussions and round tables will run for 60 minutes.
For more information, please contact the organizers, at: [email protected].

CWRC 2 - Canadian Women Writers Conference
"Space / Place / Play"
An Interdisciplinary, International Conference
Ryerson University, Toronto, 27 - 29 October 2021
Plenary Speakers:
Dionne Brand (Author)
Bethany Nowviskie (Director, Digital Research & Scholarship, U of Virginia Library)
Lori Saint-Martin (Author, Translator, Professor, UQAM)
We invite papers that respond to the conference theme of "Space / Place / Play" and illuminate the vast diversity of Canadian women's writing, past and present, in all genres and formats (printed text, manuscripts, journalism, screenwriting, graphic novels, songs, music, performance art, artists' books), of all cultures, regions, and linguistic groups. Papers should be relevant to the emphasis on collaboration and digital scholarship of the Canadian Writing Research Collaboratory (see below, or www.cwrc.ca). They may:
comment on the critical reception of Aboriginal, minority and/or multilingual writing;
explore the potential for comparative study and analysis through an integrated online history and/or its implications for Canadian Comparative Literature;
pursue both historical specificity and trans-historical connections;
consider the plurality of Canadian women's literary histories;
examine these histories in relation to various versions of the nation or a transnational perspective;
address the practicalities of the marketplace, i.e. women's roles in the "literary institution / institution littéraire";
interrogate distinctions between popular and elite, subversive and insider writing;
investigate platforms necessary to make Wikipedia-like resources literary, creative, scholarly and extensible;
address the limitations of current available sites (e.g.,. lone databases) and the potentials of interlinked or integrated knowledge systems;
explore modes of circulating, disseminating and expanding an integrated history;
offer frames for reading digital works as media systems, social practices, or cultural networks;
offer examples of using digital tools to produce new kinds of cultural or historical analysis;
illustrate the emergence of new forms of technological infrastructure and media.
The Canadian Writing Research Collaboratory (CWRC, pronounced "quirk") is developing a digital platform for new collaborations in humanities research. Supporting team-based scholarship, digitization, and editing, and embedding its material in political, commercial, and cultural contexts, CWRC brings digital arts into dialogue with other artistic practices in the contemporary landscape of imaginative and creative work and critical research. CWRC has secured substantial funding from both the Canada Foundation for Innovation (CFI) and provincial funding bodies.
CWRC's centerpiece is a Canadian Women Writers project, a radically interdisciplinary, collaborative and bilingual research initiative that will be developed across three primary modules:
a virtual archive of textual, visual, and audiovisual materials relevant to research in women's writing in Canada;
a searchable, expandable, user-producer text base of historical, bio-critical data on women' writing in Canada; and
an interactive forum/salon for the circulation of discussion, new digital material, and readers' and writers' communities.
This gathering will be the second of up to three conferences planned around CWRC's flagship project. This venture with multilingual, multi-genre, and multi-media content is anchored in the premise that digital and electronic instruments are key to enabling and producing new meanings in embodied, experiential, participatory ways. In coordinated collaboration with related major projects partnered with CWRC (the Canadian Literature Centre; Editing Modernism in Canada; TransCanada Institute; canadiana.org, among others), this Canadian Women Writers initiative aims to bring into alignment established and emergent histories, to integrate divergent perspectives on history, and to engage users as producers in a variety of textual, visual, and audio formats. The conference will bring together scholars, writers, booksellers, librarians, publishers, and software designers, along with invited keynote speakers, to catalyze discussion - particularly on women's writing in Canada, literary history, historiography, collaborative methods, and digital and feminist scholarship - through papers, panels, readings, and online demonstrations.
Members of the conference committee:
Dr. Susan Brown, University of Alberta / University of Guelph
Dr. Patricia Demers, University of Alberta
Dr. Kathleen Kellett-Betsos, Ryerson University
Dr. Anne-Marie Lee-Loy, Ryerson University
Dr. Dennis Denisoff, Ryerson University
Dr. Ruth Panofsky, Ryerson University
For more information, please visit the conference website, at cwrc2.blog.ryerson.ca, or email: [email protected].
Address all mail inquiries to: Canadian Women Writers Conference/Colloque écritures des femmes du Canada, Department of English, Ryerson University, 350 Victoria Street, Toronto, Ontario M5B 3K3