Lynn Coady's new book, Who Needs Books, from her 2015 CLC Kreisel Lecture is available in February 2016 from the University of Alberta Press.
Who Needs Books? Reading in the Digital Age
Introduction by Paul Kennedy.
Author: Lynn Coady
Publishers: co-published by the University of Alberta Press and the Canadian Literature Centre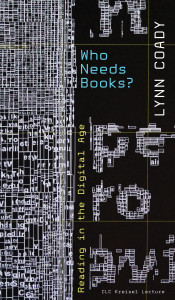 Price: $10.95
ISBN: 978-1-77212-124-7
Format: Trade paperback
Genre: Literature/Essay
About the book:"More people play games than read books. More people watch porn than read books. More people watch sports and TV and movies than read books."
What happens if we separate the idea of "the book" from the experience it has traditionally provided? Lynn Coady challenges booklovers addicted to the physical book to confront their darkest fears about the digital world and the future of reading. Is the all-pervasive internet turning readers into web-surfing automatons and books themselves into museum pieces? The bogeyman of technological change has haunted humans ever since Plato warned about the dangers of the written word, and every generation is convinced its youth will bring about the end of civilization. In Who Needs Books?, Coady suggests that, even though digital advances have long been associated with the erosion of literacy, recent technologies have not debased our culture as much as they have simply changed the way we read.
About the author: Lynn Coady is an award-winning author and journalist whose work has
consistently drawn critical and public attention. Her first novel, Strange Heaven, was a Governor General's Award nominee. Her subsequent books, Play the Monster Blind, Saints of Big Harbour, and Mean Boy were each recognized by the Globe and Mail as a "Best Book" in 2000, 2002, and 2006 respectively. In 2011, her novel The Antagonist was shortlisted for the prestigious Scotiabank Giller Prize, an award she won in 2013 for her short story collection Hellgoing. Her journalism has been published in such publications as Saturday Night and Chatelaine, and Coady is also a founding editor of the Edmonton-based magazine Eighteen Bridges.