Imagining Ancient Women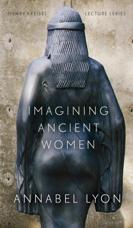 Annabel Lyon's March 2011 lecture is now available, with Introduction by Curtis Gillespie.
Author: Annabel Lyon
Publishers: co-published by the University of Alberta Press and the Canadian Literature Centre
Price: $10.95
ISBN: 978-0-88864-629-3
Format: Trade paperback
Genre: Literature/Essay
About the book: In March 2011 the Canadian Literature Centre hosted award-winning novelist Annabel Lyon at the 5th annual Henry Kreisel Lecture. Annabel Lyon's passion for historical novels and her love of ancient Greece make her lecture on the process of creating characters of historical fiction captivating. She discusses the process of wading through historical sources - and avoiding myriad pitfalls - to craft believable people to whom readers can relate. Finding familiarity with figures from the past and then, with the help of hindsight, discovering their secrets, are the foremost tools of the historical novel writer. Readers interested in the literary creative process and in writing or reading historical fiction will find Lyon's comments insightful and intriguing.
About the author: Annabel Lyon, a Vancouver-based fiction writer and teacher, is the author of several books, including her acclaimed historical novel, The Golden Mean.